Fr.1890-D*, 1929 $100 Cleveland Star FRBN, VF, PMG-25, D00003808*
# 6339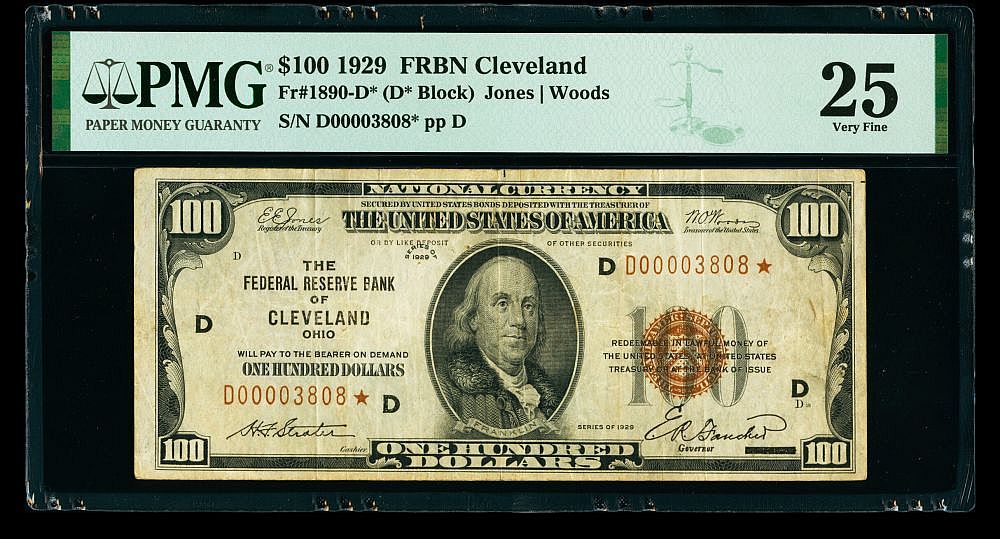 View Other Image
Fr.1890-D*, 1929 $100 Cleveland Star FRBN, VF, PMG-25, D00003808*, one of only seven notes reported to the census.
Paper Money Guarantee has graded six $100 Cleveland Star Federal Reserve Bank Notes: This note, a Very Fine 25, another VF-25, two VF-30, a VG-10 and an AU-55 (which we have not seen but was reported to have shown up on eBay in 2013). We have had only one Cleveland Star $100 FRBN before this note. It was in fairly rough condition, but we were pleased to be able to buy it over the counter about 20 years ago. It sold immediately to an appreciative buyer at the first show in which we offered it soon after purchase. We suspect that the note may be the one listed in PMG's Population Report as the VG-10 as we are told that example is reported to bear a "Net" grade and as having "Edge Damage".
Obviously circulated, but in the respectable collector grade of Very Fine, this note presents a rare opportunity to add a key trophy to any Cleveland collection. Perhaps not an insignificant outlay for a small size banknote but priced appropriately and markedly less than when sold at the October 2008 Knight sale for $6325.
The BEP printed only 1000 sheets of these Cleveland star replacement notes.