Scotland, P-365, 2005 Royal Bank of Scotland, 5 Pounds "Jack Nicklaus" note, GemCU
# 4878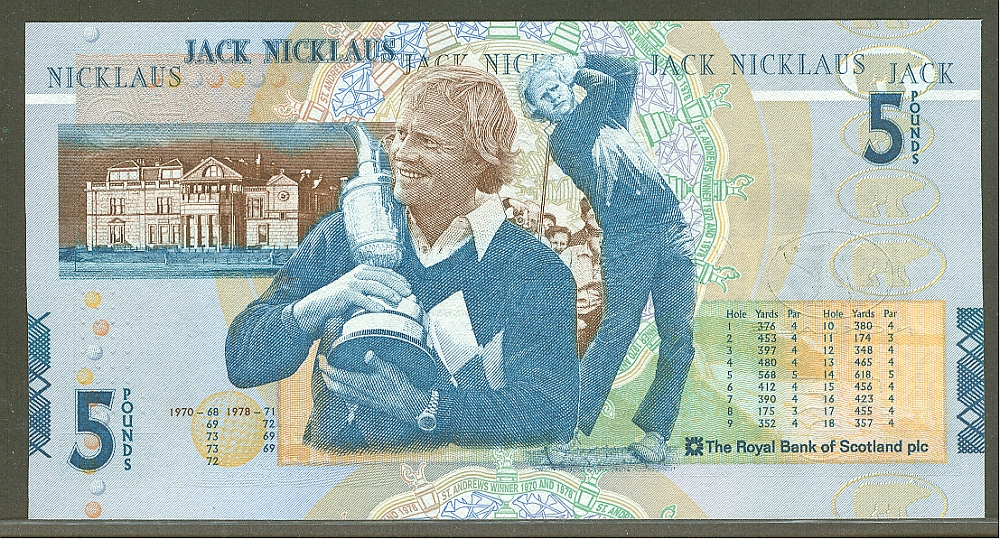 View Other Image
Royal Bank of Scotland, 5 Pounds "Jack Nicklaus" note in GemCU
Jack Nicklaus is the only non-royal to grace a Scottish banknote. Known as "The Bear", his moniker is represented by the image of a golden bear on the front of the note. Notice also that the serial number begins with "JWN" for Jack Willam Nicklaus.

The back commemorates Jack's victory at the 1978 British Open, depicts him with the trophy and in full swing. It includes his winning tournament scores and an image of the clubhouse and the course stats.
Rare as a golf topical and a great gift for the banknote collecting golfer!
The note imaged is representative of the Gem CU note you will receive. Supply is limited.